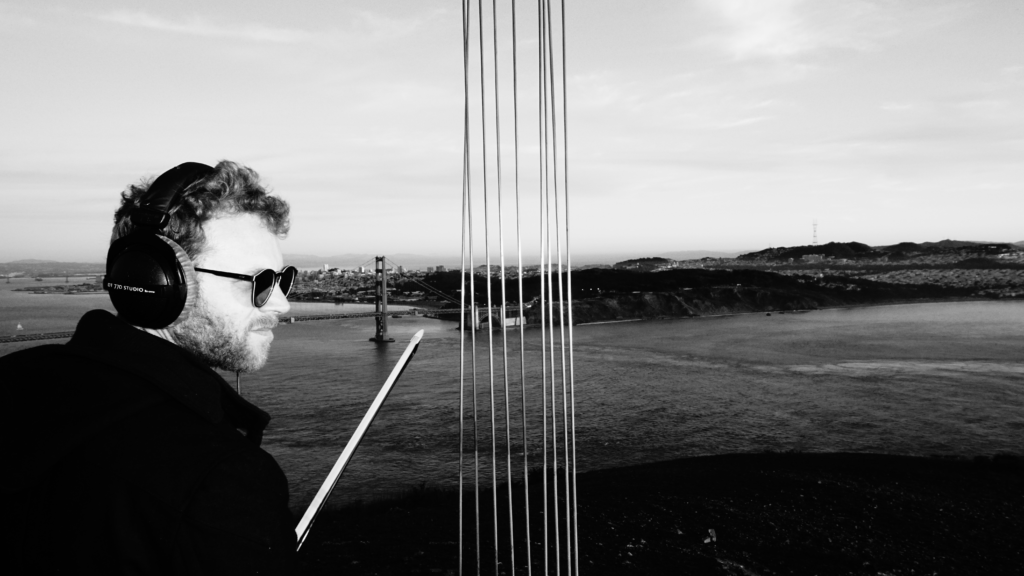 Ryan Hurtgen is a multi-talented artist, composer, singer-songwriter and inventor in the development of sonic instruments for new types of musical expression and listening experiences.  His instrument, the Samalan, creates vast arrays of harmonics that allow for deep feeling states, providing a window for self-discovery through acoustics. In 2019, Ryan played the Samalan in three sonic meditations at the World Government Summit in Dubai in collaboration with a team of artists who explore sound as an avenue to meditation and health. He has taken his study of Georgian polyphonic singing to the Republic of Georgia to sing with the Didgori Men's Ensemble of Tblisi.  He is the lead singer-songwriter of acclaimed progressive rock albums with the bands Rene Breton and Perfect Beings. He is currently focusing on creating meditation albums that explore harmonic soundscapes and natural environments for relaxation through his channel OmniAmbient. He is also an LSIT Land Surveyor interested in the future of land development, sustainability and community.
Track
2023
Hillsboro City Park Discovery Trail Project
OmniAmbient Various Health and Wellness programs for Teachers
Jeffco Surveying Field and Office work
2022
Studies in Land Surveying at Missouri State Tech
Fundamentals of Land Surveying Exam (FS) passed
No performances due to Covid Pandemic
Research in principles of Archeoastronomy
Cork, Ireland
Recordings for "OmniAmbient – Activating the Merkaba – with Mikael Spector"
Hague, Holland
2021
Release of OmniAmbient
2020
Recording and Study – OmniAmbient – Travel and camping to various natural environments around the United States, no performances due to Covid Pandemic
Hillsboro, MO, USA
2019
World Government Summit – Alchemic Sonic Envrionment – Dubai Future talks with Satya Hinduja
Dubai UAE
Launch of the Resonance Experience Sound Sanctuary Kit,
Los Angeles CA
Guru Purnima Retreat – His Holiness – Swamiji Chidanand Saraswati and Sadhvi Bhagwati Saraswati
Dale Hollow, Kentucky
The Resonance Experience Tour – New York City
Biosonics and Tuning Fork Therapy Course – Dr. John Beaulieu-
Hudson Valley – New York , NY
2018
ASE – 13th addition of Asia Contemporary Arts week, New York, NY
The Apricot Tour-Georgian Polyphonic Singing – Georgia and Armenia
Project Leader – acoustical design – Lemontree Studios – Highland Park, CA
Perfect Beings – Rosfest Music Festival – Majestic Theater – Gettysburg, PA
Perfect Beings – VIER album release – Inside/Out-Sony
2017
Moon Dreams album release, published Insight Timer
Various meditative concerts, St. Mary of the Angels Church, Los Angeles CA
2016
Studies of Integral Yoga at the Sri Aurobindo Ashram – Los Angeles CA
2015
Perfect Beings – II, album release – My Sonic Temple
Various showcases, Los Angeles CA
FEAL collective, Los Angeles CA
2014
Perfect Beings – album release – My Sonic Temple
Various Showcases – Sci-Fi Loves Prog Festival – Los Angeles, CA
2008 – 2013
Rene Breton Period – Asleep in Green, Between city and country, The Great Midwestern American Facebook Dream.
SXSW showcase 2011
Various North American small club tours
2004 – 2008
Nashville songwriter affiliations, Nashville Public Library, open mics, studies at Belmont University.
Recording Studio construction and design
Nary a day album release, Live from Off Broadway album release
2000-2004
University of Missouri – studies in Civil Engineering, History and Philosophy
Various musical projects in bands and session playing
1990-1999
Formal education in guitar, drums, piano and voice.
1981
Born in St. Louis, USA